MAN-Neoplan Euroliner N316/3 SHD L
Terry's Coach Hire has once again invested in one of the best vehicle marques available in the UK, MAN-Neoplan. This latest addition to our touring fleet is our second 61 seat, 13.8M long Neoplan Euroliner N316/3 SHD L built in Germany by Neoman (MAN-Neoplan).
This vehicle is powered by a 12.6Litre 410Bhp MAN diesel engine driving through a 12speed ZF AS-Tronic gearbox with ABS, ASR and integrated brake retarder to ensure your comfort and safety whilst onboard.
To ensure passenger comfort, this vehicle includes the following:
61 Luxury reclining seats with safety belts & tray tables.
Full automatic climate control [AC] with additional fuel fired heating to cope with those coldest of days.
Toilet washroom, and full hot & cold drinks facility.
Enhanced Audio/Visual package with 2x screens, DVD & CD/Radio/PA.
Terry's Coach Hire welcomes you (and your group) aboard our latest investment in luxury passenger transport: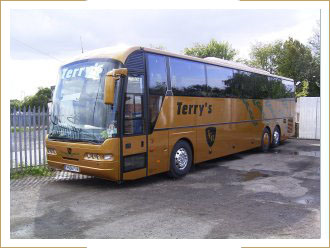 Man-Neoplan Euroliner N313/3 SHD L 13.8M / 61 Seats [Euro III - LEZ Compliant]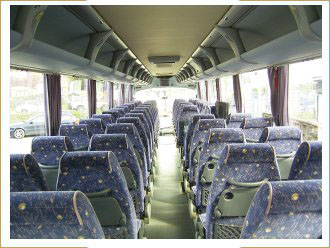 Interior of the 61 seat Neoplan Euroliner N316/3 SHD L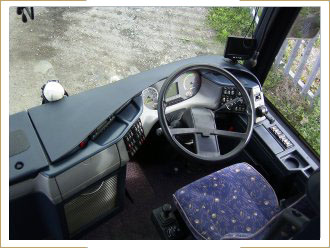 Drivers position of the Neoplan Euroliner N316/3 SHD L